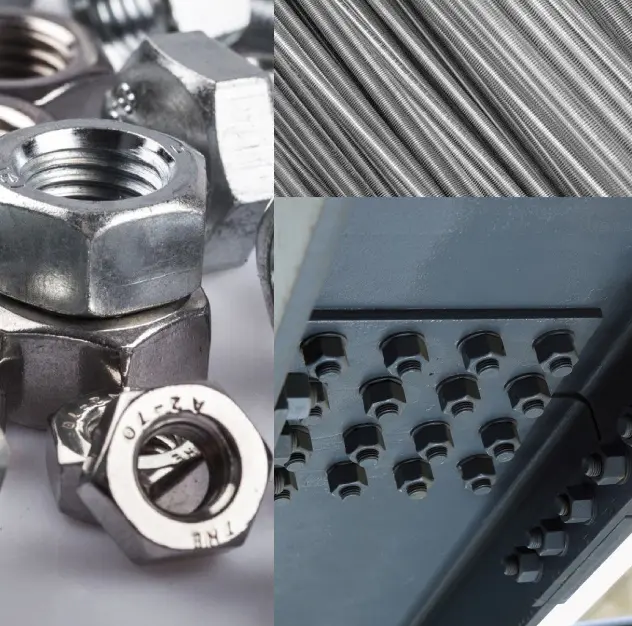 If it requires a thread, we stock it, can source it, or custom manufacture it to your specifications. We maintain an 18,000 sf warehouse full of fasteners to fill your needs. We can provide domestic fasteners when needed and certifications for all materials.
Stocked materials include these items below, and with over 400 vendors, we can access almost anything you need in the way of hardware or industrial supplies.
Bolts
Imperial / English Standard and Metric
Grade 5
Grade 8
Grade a325 Structural Bolts
Plain, Zinc Plated, and Hot Dipped Galvanized
Stainless Steel Grade 304 and 316
We have the largest inventory of METRIC Fasteners in town!
Threaded Rod
Standard grade Zinc Plated and Hot Dipped Galvanized
B7 Rod, plain and plated
Stainless Steel Grade 304 and 316
We provide custom-length threaded rods for anchors and can weld nuts or plates for your needs!
Huge selection of Socket Caps and Flat Socket Cap Screws.
Fasteners in stock include:
Special Bolts
Anchor (Wedge, Large Diameter TapCon (LDTs), Concrete Screws, Drop-In, CUSTOM FABRICATED ANCHORS OF ANY SIZE OR LENGTH)
Lag
Carriage Bolt
Eye Bolt
Square Head
Plow Bolts
Set Screws
All specialty bolts come in plain, zinc, hot-dipped galvanized, or stainless steel.
WE ARE NOW A FULL-LINE DEALER FOR SIMPSON STRONG TIE!
SCREWS
We have ALL of the screws you need! Now stocking machine screws, wood screws, deck screws, tapping, and TEK screws. These screws are available in zinc-plated, corrosion-resistant plating, and stainless steel in all head styles.